Digitizing the Upham Map
N. Plan to Adjust Locations
Even though we now have a coverage of features that has been georeferenced, we must still work to adjust their location and improve the quality of the dataset.
As a result of inaccuracy in Upham's drawings, and the inevitable offset of image registration, we must attempt to reconcile the digitized points with the known control locations. Moving the points which represent existing features is simple enough, but further research will need to be done to determine how best to adjust the location of non-existent features.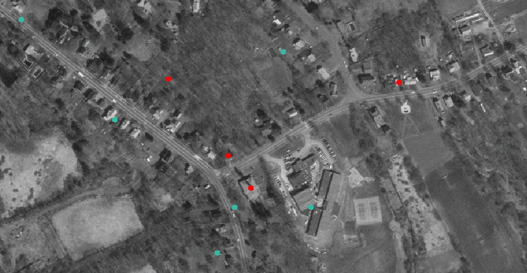 ABOVE: The referencing and digitizing processes must now give way to locational correction and reconciliation. Here the red points represent the controls established to help fix the geographic locations of Upham's map. As we have seen, however, Upham's map is inaccurate in places. The blue dots represent those same control features, as digitized from Upham's map. Adjusting the blue dots to overlay the red ones is a logical step, but how--or whether to attempt--to adjust the location of non-existing features (non-control) features is the subject of future work.