SWP No. 107: John Proctor Executed, August 19, 1692
(See also: Martha Corey -- Mittimus; Elizabeth Proctor -- Petition.)
SWP No. 107.1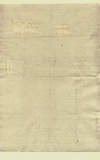 [+ April 4, 1692]
1692 Apr. 4. Abig: Williams complained of Goodm Proctor & cryed out w't are you come to, #[are you come to,] you can pinch as well as your wife & more to that purpose
6. At night she complained of Goodm: Proctor again & beat upon her breast & cryed he pinched her. The like I hear at Tho. Putmans house.
12. Day, When the Marshall was sent up to enquire of John Proctor & others & I was writing some what thereof as above I met with nothing but interruptions by reason of fits upon John Indian & Abigail , & Mary Walcot happening to come in just before, they one & another cryed out there is Goodm: Proctor very often: And Abigail said there is Goodm: Proctor in the Majstrats lap, at the same time Mary Walcot was sitting by a knitting we asked her if she saw Goodm: Proctor (for Abigail was immediately seized with a fit) but she was deaf & dumb, yet still a knitting, then Mary recovered her self & confirmed what Abigail had said that goodm: proctor she saw in the Majstrats lap Then John cryed out to the Dog under the Table to come away for Goodm: Proctor was upon his back, then he cryed out of Goody Cloyse , O you old Witch, & fell immediately into a violent fit that 3.men & the Marshall could not without exceeding difficulty hold him: In which fit Mary Walcot that was knitting & well composed said there was Goodm: Proctor & his wife & Goody Cloyse helping of him. But so great were the interruptions of John & Abigail by fits while we were observing these things to notify them, that we were fain to send them both away that I might have liberty to write this without disturbance Mary Walcot abiding composed & knitting whilest I was writing & the two other sent away, yet by & by whilst I was writing Mary Walcot said there Goody Cloyse has pincht me now
Note. Mary Walcot never saw Proctor nor his wife till last night coming from the examination at Salem & then she saw Goody Proctor behind her brother Jonathan all the way from the Widow Gidneys to Phillips where Jonathan made a little stay But this day & time I have been writing this she saw them many times.
Note. Just now as soon as I had made an end of reading this to the Marshall Mary W [Walcott] immediately cryed O yonder is Good: Proctor & his wife & Goody Nurse & Goody Korey & [? Goody]] Cloyse](/tag/cloyce_sarah.html) & [Goods Child]/tag/good_dorothy.html) & then said O Goodm: Proctor is going to choke me & Immediately she was choakt
Munday 11'th mo ditto Lut. Nath: Ingersoll Declares that John Procter tould Joseph Pope that if hee hade John Indian in his Costody hee would soone beat the Devell out of him: and so said to severall others
(Reverse) Village papers concerning Sundry persons Under Suspition of Witchcraft Abigail Williams ag't John procter
( Essex County Court Archives, Salem -- Witchcraft Vol. 1, No. 57, Salem, MA. Also Essex Institute Collection, no. 18, Phillips Library, Peabody Essex Museum, Salem, MA.)