SWP No. 126: Job Tookey
SWP No. 126.1


[June 4, 1692]
June the 4. 1692
Mary Waren Susanah Shelden Ann putnam: Sarah Viber Mary Walcot Eliz. Hubert: and Eliz booth
all accused Job Tuckey that he came in person; also in his shape to them and this day afflicted them; and also in our presence greatly afflicted them. as they all declared # and told Mary Warren and Ann putnam^and Susanah Shelden that he had Learneing and coald Raise the Divell W'n he pleased
Susanah Shelden sayth that he told her he was not onely a Wizard but a Murtherer to
mary walcot & ann Putnam Jur in Cur.
Job Tuckey sayeth its not he but the devill in
his shape that hurts the people
present Maj'r Bar't Gedney
Jonat' Corwin
Jno Hathorne ]
Mary Warren and Ann Putnam and Susannah Shelden all Made Oath before Us that Job Tukey did this day tell them #[that] in his owne person that he had Learneing and could Raise the divele when he pleased --
Sworne per all three aboves'd Salem June 4'th 1692
Mary Walcot
& Ann Putnam Before Us
Jur in Cur.
Susannah Shelden Mary Warren and Ann Putnam all Testified that this 4th of June when Job Tuckey was Examined before the Majestrats wee did all see five people that arose from the dead two of them men two Women & one Child. w'ch all Cryed Vengance vengeance
Job Tuckey being asked before Us w't child that was that arose and Cryed Vengance
vengance he Answerd,
it was John Trasks childJno Trasks child.
And Ann Putnam. told her that it was John Trasks child
Before John Hathorne Jud't peace
(Reverse) James Darling Sworne Saith That Job Tookey Said he was not
the Devills Servant but the Devill was his --
Jno Loader Sworn Saith
Evidences ver. Tookie
( Mass. Archives Collection, Vol. 135 no. 26, Massachusetts State Archives, Boston, MA. )
SWP No. 126.2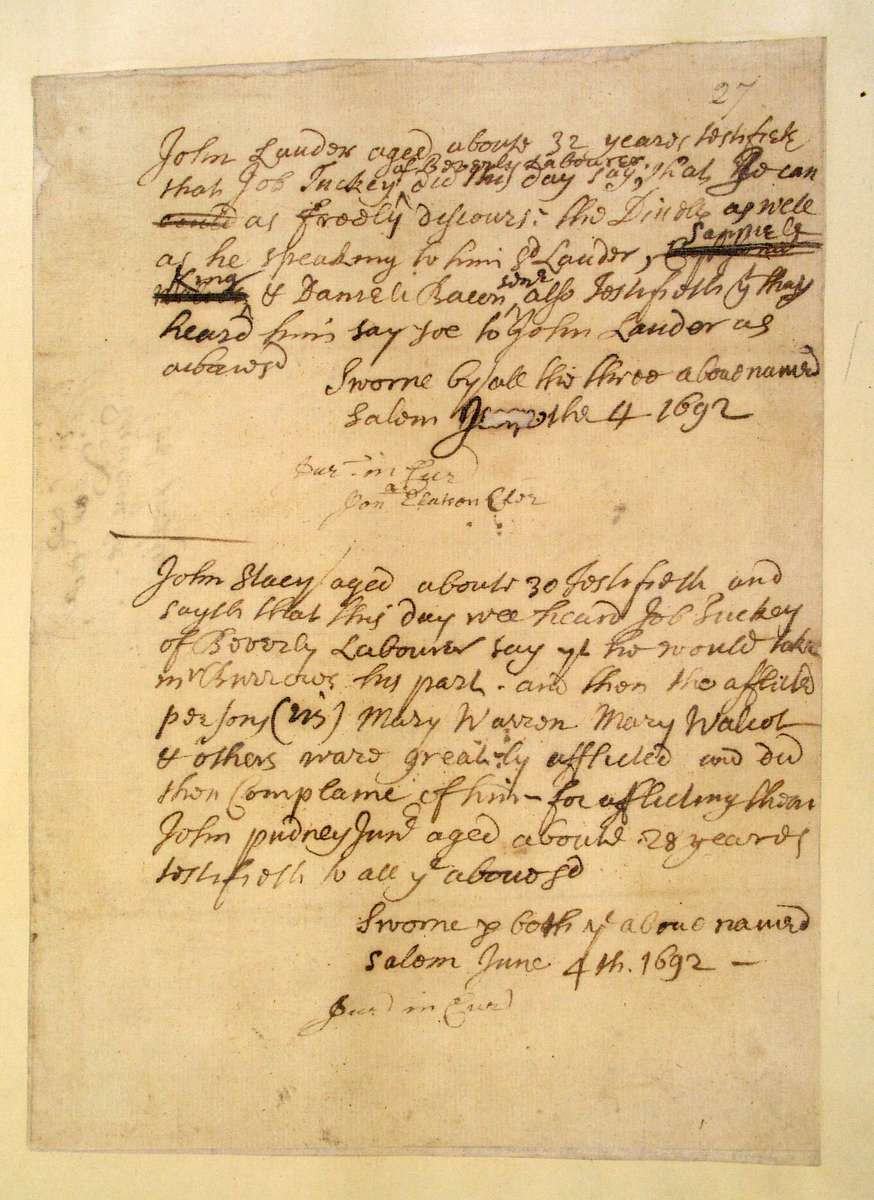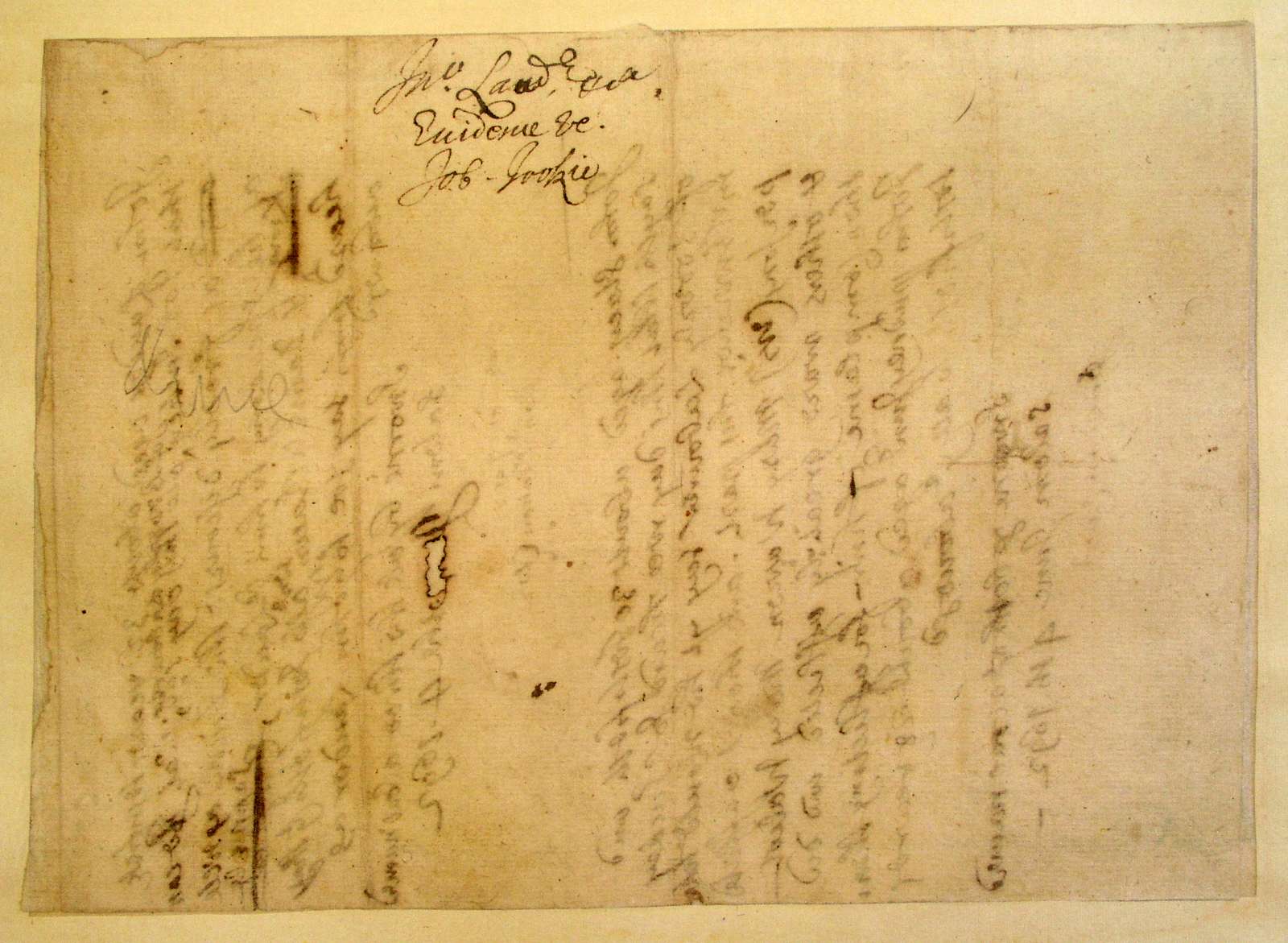 [June 4, 1692]
John Lauder aged about 32 yeares testifieth that Job Tuckey of Beverly Labourer did this day say; that he can #[could] as freely discourse the Divell as well as he speaking to him s'd Lauder, #Capt [Jona) Samuell #(Walcot)] Samuell King & Daniell Bacon sen'r also Testifieth that thay heard him say soe to John Lauder as aboves'd
Sworne by all the three above named
Salem June the 4 1692
Jur in Cur
*Jona' Elatson Cler
John Stacy aged aboute 30 Testifieth and sayth that this day wee heard Job Tuckey of Beverly Labourer say that he would take mr Burrows his part. and then the afflicted perons viz Mary Warren Mary Walcot & others ware greately afflicted and did then Complaine of him -- for afflicting them John Pudney Jun'r aged aboute 28 yeares testifieth to all the aboves'd
Sworne per both the above named
Salem June 4th 1692 -- Jur in Cur
(Reverse) Jno Loud'r &ca
Evidence ve. Job Tookie
( Mass. Archives Collection, Vol. 135 no. 27. Massachusetts State Archives, Boston, MA. )
SWP No. 126.3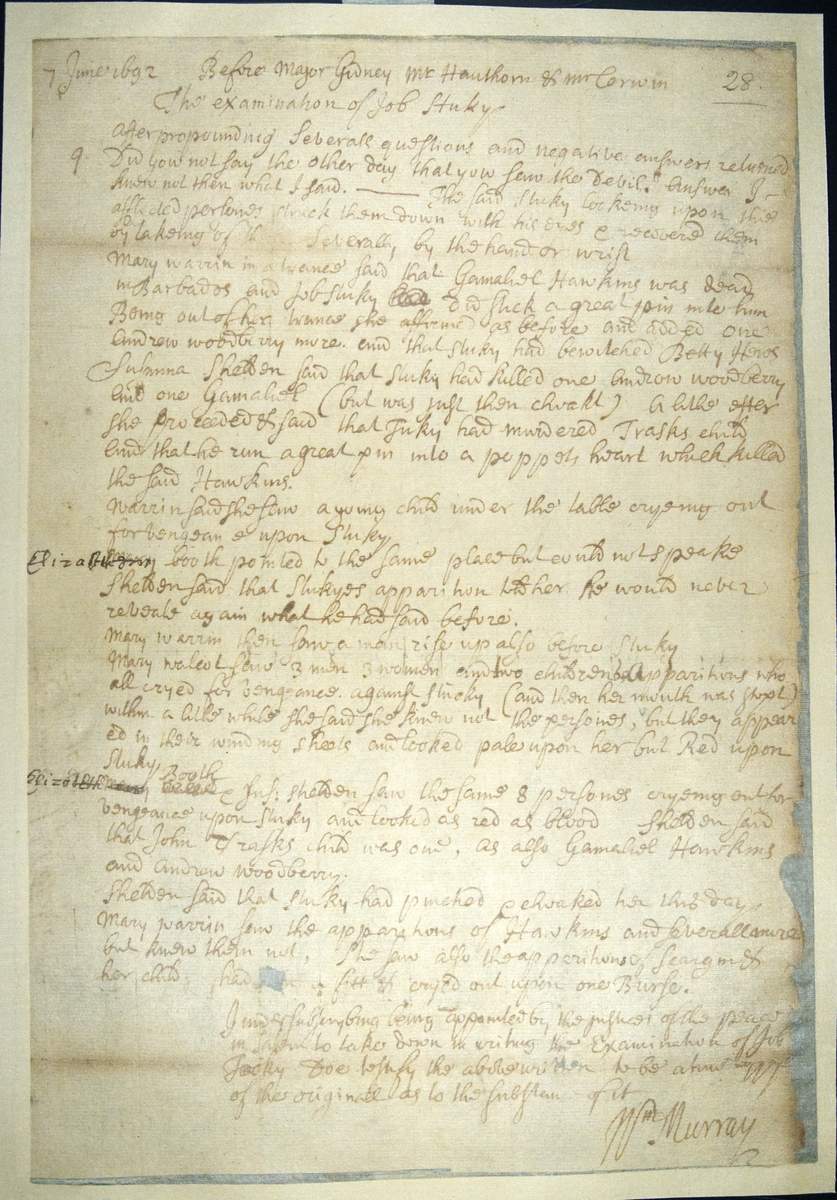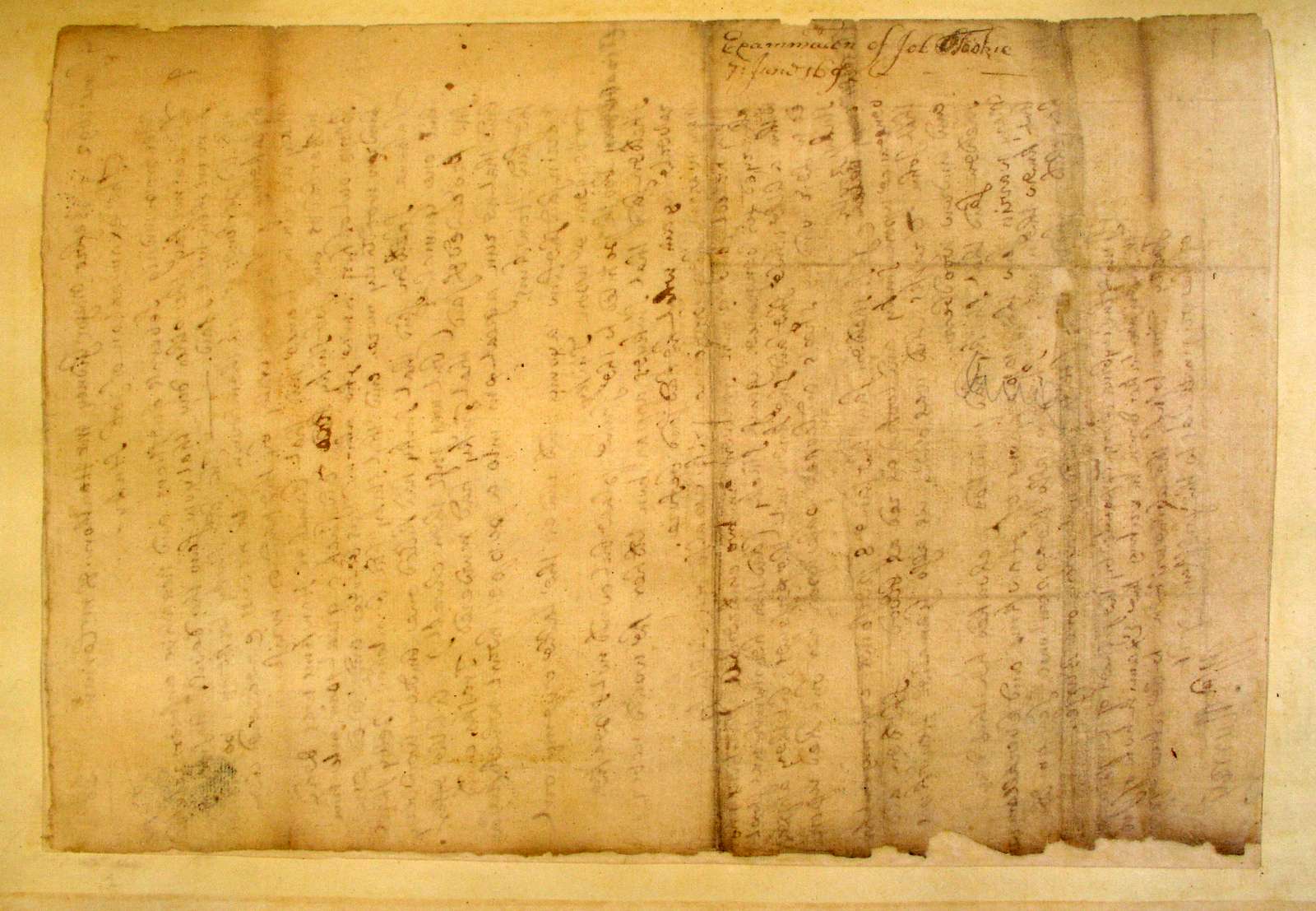 [June 7, 1692]
7 June 1692
Before Major Gidney Mr Hauthorn & mr Corwin
The examination of Job Stuky
After propounding Severall questions and negative answers returned q Did you not say the other day that you saw the Devil. Answer I knew not then what I said. -- The said Stuky lookeing upon the afflicted persones struck them down with his eyes & recovered them by takeing of them Severally by the hand or wrist
Mary warrin in a trance said that Gamaliel Hawkins was dead in Barbados and Job Stuky #(had) did stick a great pin into him
Being out of her trance she affirmed as before and added one Andrew woodberry more. and that Stuky had bewitched Betty Hews
Susanna Shelden said that Stuky had killed one Androw woodberry And one Gamaliel (but was just then choakt) A litle efter she proceeded & said that Tuky had murdered Trasks child And that he run a great pin into a poppets heart which killed the said Hawkins.Warrin said she saw a young child under the table cryeing out for vengean[e] upon Stuky Elizabeth jnr #(Mary) booth pointed to the same place but could not speake Shelden said that Stukyes apparaition told her he would never reveale again what he had said before.
Mary warrin then saw a man rise up also before Stuky
Mary walcot saw 3 men 3 women and two childrens Apparitions who all cryed for vengeance. against Stucky (and then her mouth was stopt) within a litle while she said she knew not the persones, but they appeared in their winding sheets and looked pale upon her but Red upon Stuky
Elizabeth #(Mary walcot) Booth #[Mary Warrin] & Sus: Shelden saw the same 8 persones cryeing out for vengeance upon Stuky and looked as red as blood Shelden said that John Trasks child was one, As also Gamaliel Hawkins and Andrew woodberry.
Shelden said that Stuky had pinched & choaked her this day Mary warrin saw the apparitions of Hawkins and severall more but knew them not, She saw also the apparitions of seargin & her child; had [torn]n a fit & cryed out upon one Burse.
I under subscrybing being appointed by the justices of the Peace in Salem to take down in writing the Examination of Job Tooky Doe testify the above written to be a true coppy of the originall as to the substance of it
(Reverse) Examinaton of Job Tookie
7: June 1692
( Mass. Archives Collection, Vol. 135 no. 28. Massachusetts State Archives, Boston, MA. )
SWP No. 126.4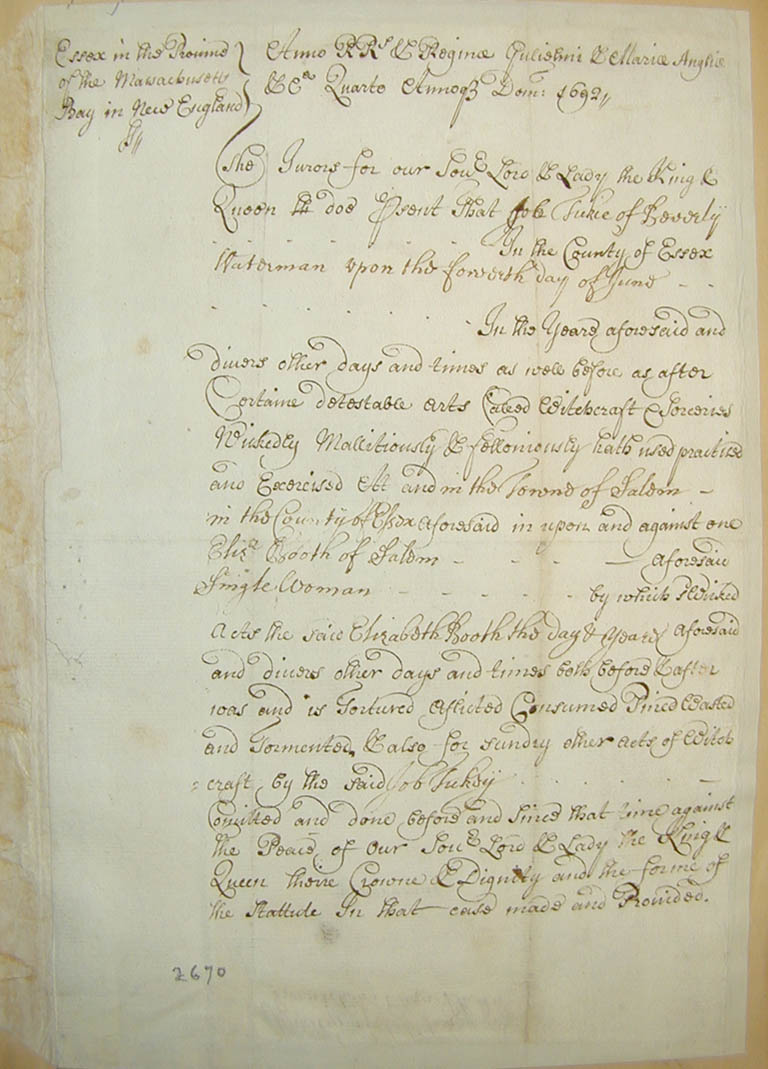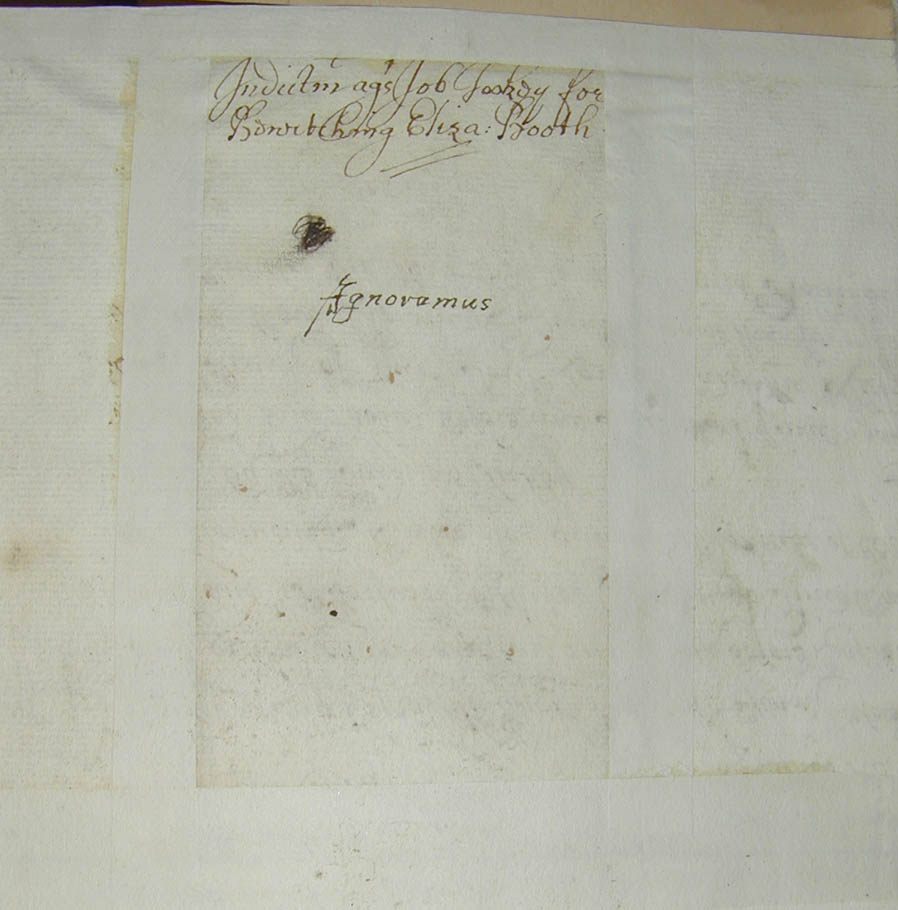 (Indictment of Job Tookey, for Afflicting Elizabeth Booth, Returned Ignoramous )
[++ September 15, 1692]
Essex in the Province of the Massachusetts Bay in New England ss//]
Anno RR's & Reginae Gulielmi & Mariae Angliae &c Quarto Annoq'e Dom: 1692//
The Jurors for our Sov'r Lord & Lady the King & Queen #(th) doe pr'sent That Job Tukie of Beverly In the County of Essex Waterman upon the fowerth day of June In the Yeare aforesaid and divers other days and times as well before as after Certaine detestable Arts Called Witchcraft & Sorceries Wickedly Mallitiously & felloniously hath used practised and Exercised At and in the Towne of Salem in the County of Essex Aforesaid in upon and against one Eliz'a Booth of Salem Aforesaid Single Woman -- by which s'd Wicked Acts the said Elizabeth Booth the day & yeare Aforesaid and divers other days and times both before & after was and is Tortured Aflicted Consumed Pined Wasted and Tormented, & also for Sundry other Acts of Witchcraft by the said Job Tukey -- Comitted and done before and Since that time against the Peace of our Sov'r Lord & Lady the King & Queen theire Crowne & Dignity and the forme of the Stattute In that case made and Provided.
(Reverse) Indictm't ags't Job Tookey for
Bewitching Elizabeth Booth
Ignoramous
( Suffolk Court Files, vol. 32, docket 2670 Page 2 )
SWP No. 126.5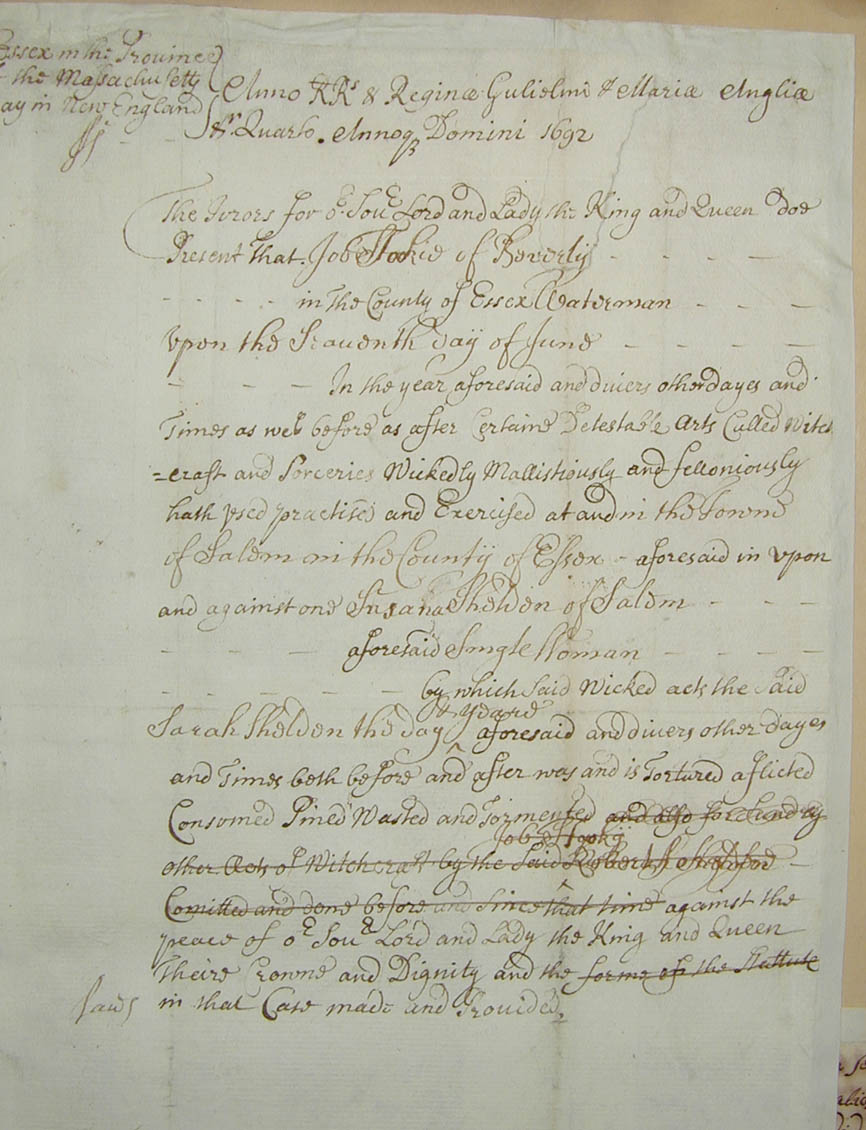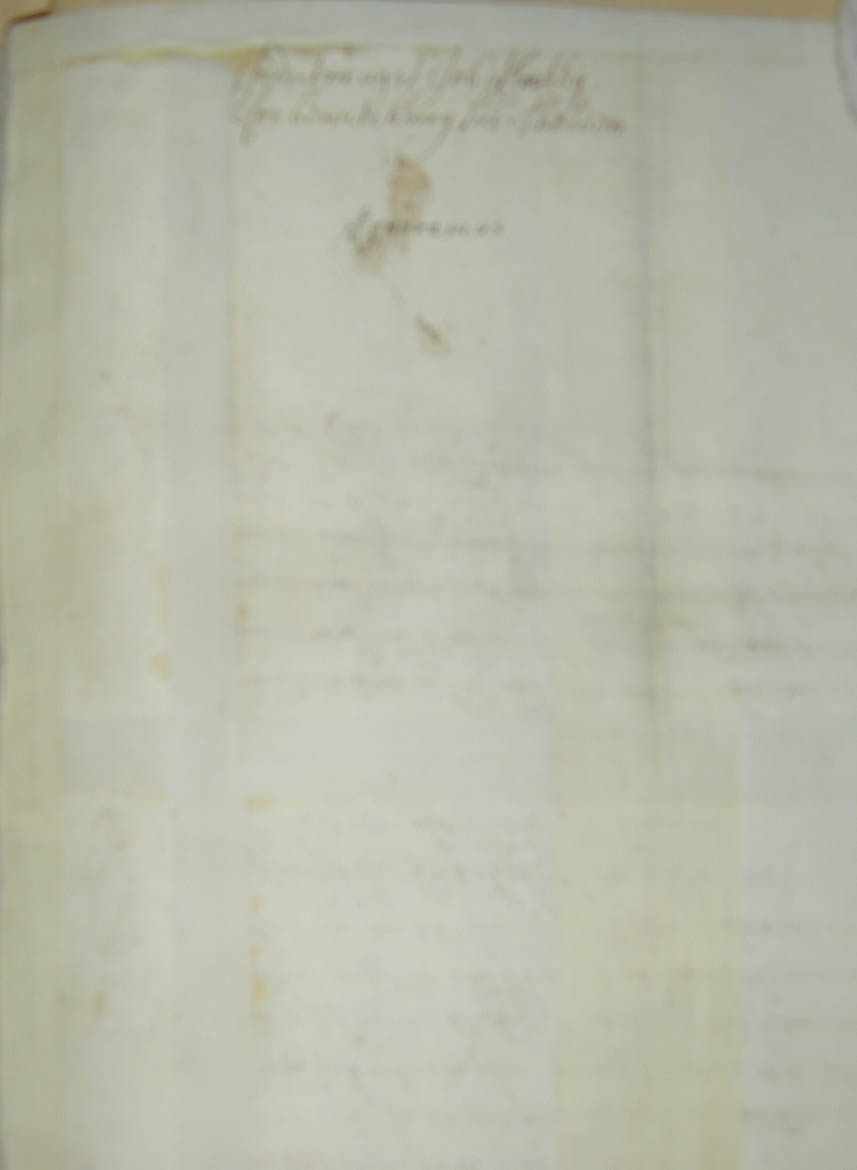 [++ September 15, 1692]
Essex in the Province of the Massachusetts Bay in New England Ss]
Anno RR's & Reginae Gulielmi & Mariae Angliae &c Quarto. Annoq'e Domini 1692
The Jurors for o'r Sov'r Lord and Lady the King & Queen doe Present That
Job T#(St)ookie of Beverly -- in the County of Essex Waterman -- upon the Seaventh day of June --
In the year aforesaid and divers other days and Times as wel before as after Certaine Detestable Arts Called Witchcraft and Sorceries Wickedly Mallistiously and felloniously hath used practised and Exercised at and in the Towne of Salem in the County of Essex aforesaid in upon and against one Susana Sheldon of Salem -- aforesaid Single Woman -- by which Said Wicked acts the Said Sarah Shelden the day & yeare aforesaid and divers other days and Times both before and after was and is Tortured aflicted Consumed Pined Wasted and Tormented #(and also for Sunday other Acts of Witchcraft by the Said Job Stooky Robert #(Susanah) S Shelden #(S?ford) Comitted and done before and Since that time against the peace)#(and also for Sunday other Acts of Witchcraft by the Said ^Job Stooky Robert) #(Susanah) S Shelden #(against the Peace) of o'r Sov'r Lord and Lady the King and Queen Theire Crowne and Dignity and the #(forms of) #{in} #(the Stattute) laws in that Case made and Provided,
Indictm't agst Job Stookey For bewitching Sus. Shelden
Ignoramus)
( Suffolk Court Files, col. 32, docket 2670 Page 3 )
SWP No. 126.6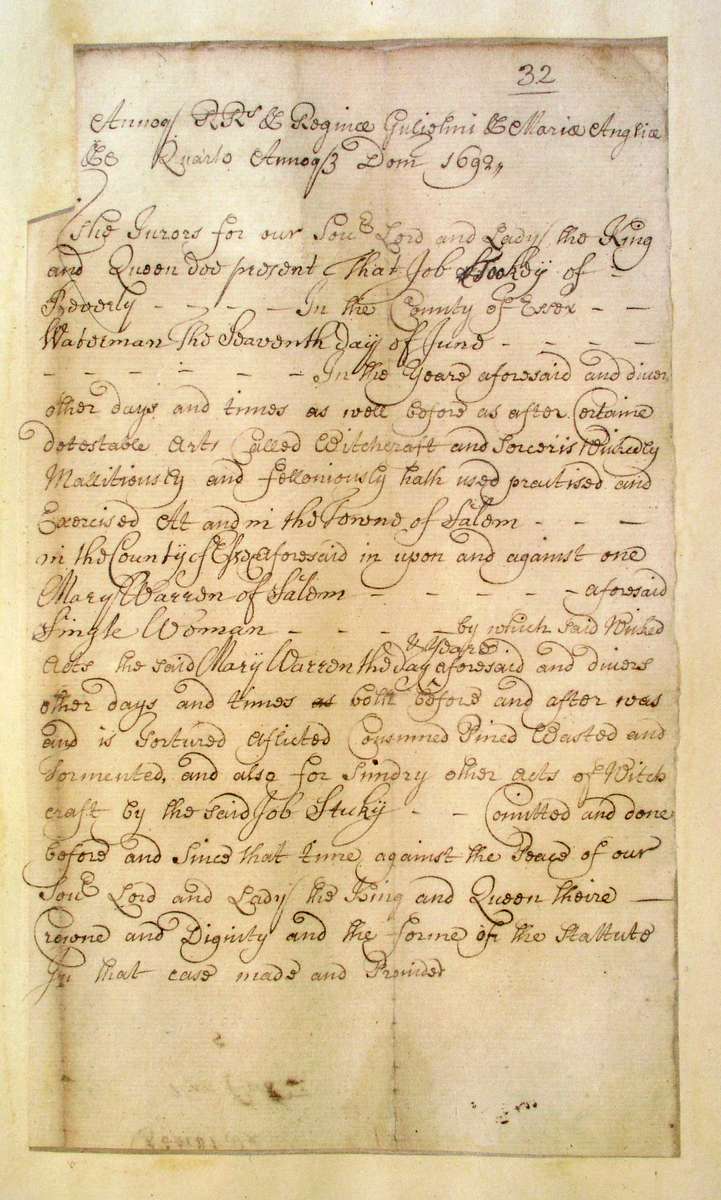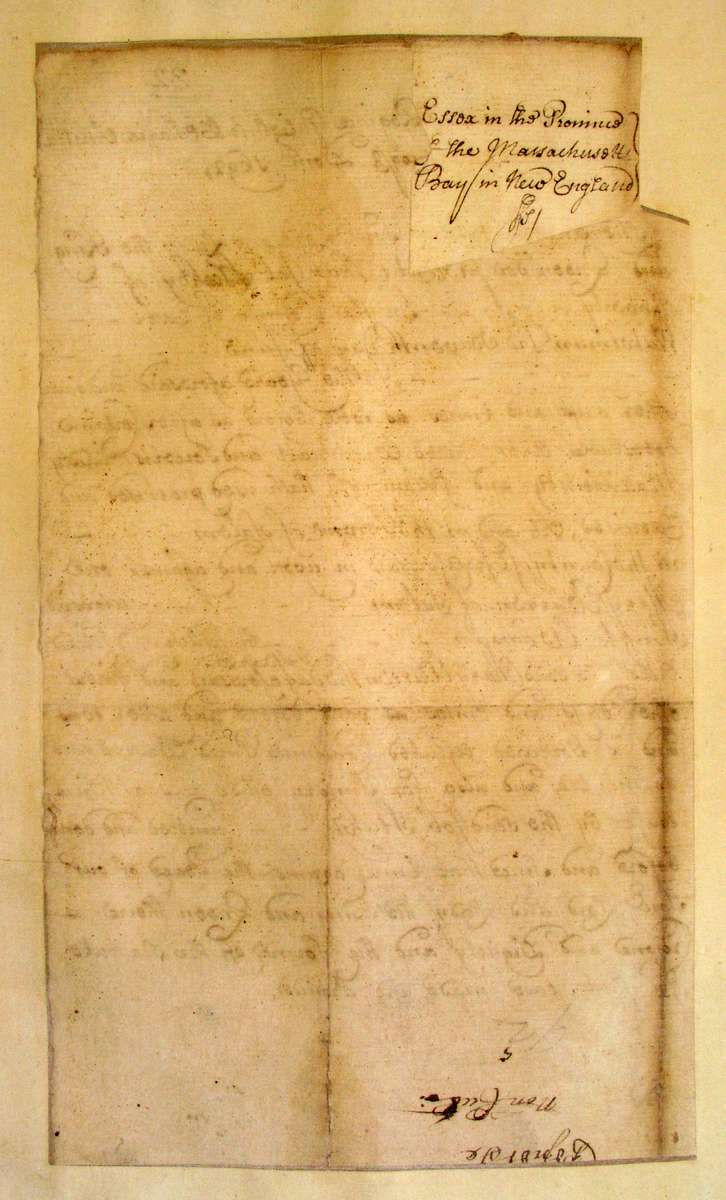 (Indictment v. Job. Tookey, for Afflicting Mary Warren Returned Ignoramous))
[++ September 15, 1692]
Essex in the Province of the Massachusetts Bay in New England Ss/
Annoq RR's & Reginae Gulielmi & Mariae Angliae &c Quarto Annoq'e Dom 1692//
[Torn]
[Torn]
[Torn] The Jurors for our Sov'r Lord and Lady the King & Queen doe Present That Job #[S] Tookey of Beverly In the County of Essex Waterman The Seaventh day of June In the Yeare aforesaid and divers other days and Times as well before as after Certaine detestable Arts Called Witchcraft and Sorceris Wickedly Mallitiously and felloniously hath used practised and Exercised At and in the Towne of Salem in the County of Essex Aforesaid in upon and against one Mary Warren of Salem Aforesaid Single Woman by which said Wicked Acts the said Mary Warren the day & yeare Aforesaid and divers other days and times #[as] both before and after was and is Tortured Aflicted Consumed Pined Wasted and Tormented, and also for Sundry other Acts of Witchcraft by the said Job Stuky Committed and done before and Since that time against the Peace #(and also for Sunday other Acts of Witchcraft by the Said ^Job Stooky Robert) #(Susanah) S Shelden #(S?ford) Comitted and done before and Since that time against the peace) of our Sov'r Lord and Lady the King and Queen theire Crowne and Dignity and the forme of the Stattute In that case made and Provided
(Reverse) Ponet Se
Non Cul: (= not guilty)
( Mass. Archives Collecion, vol. 135, no. 32. Massachusetts State Archives, Boston, MA )