SWP No. 028: Bethia Carter, Sr.
(See also: Ann Sears -- Warrant .)
SWP No. 28.1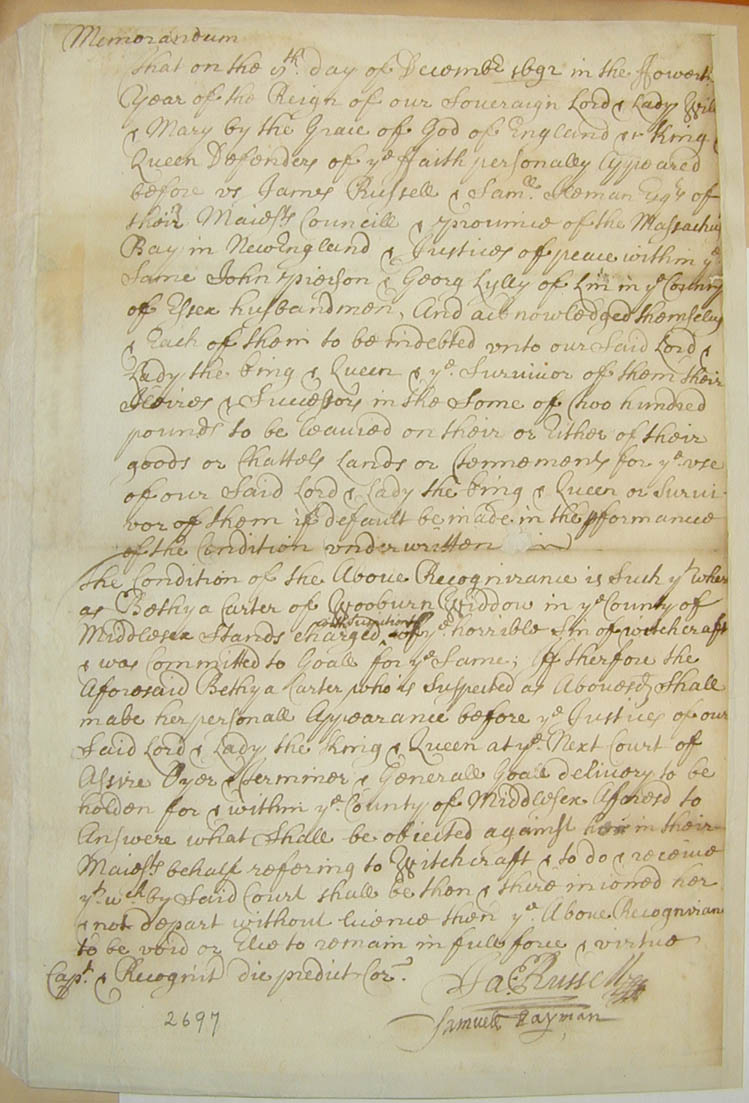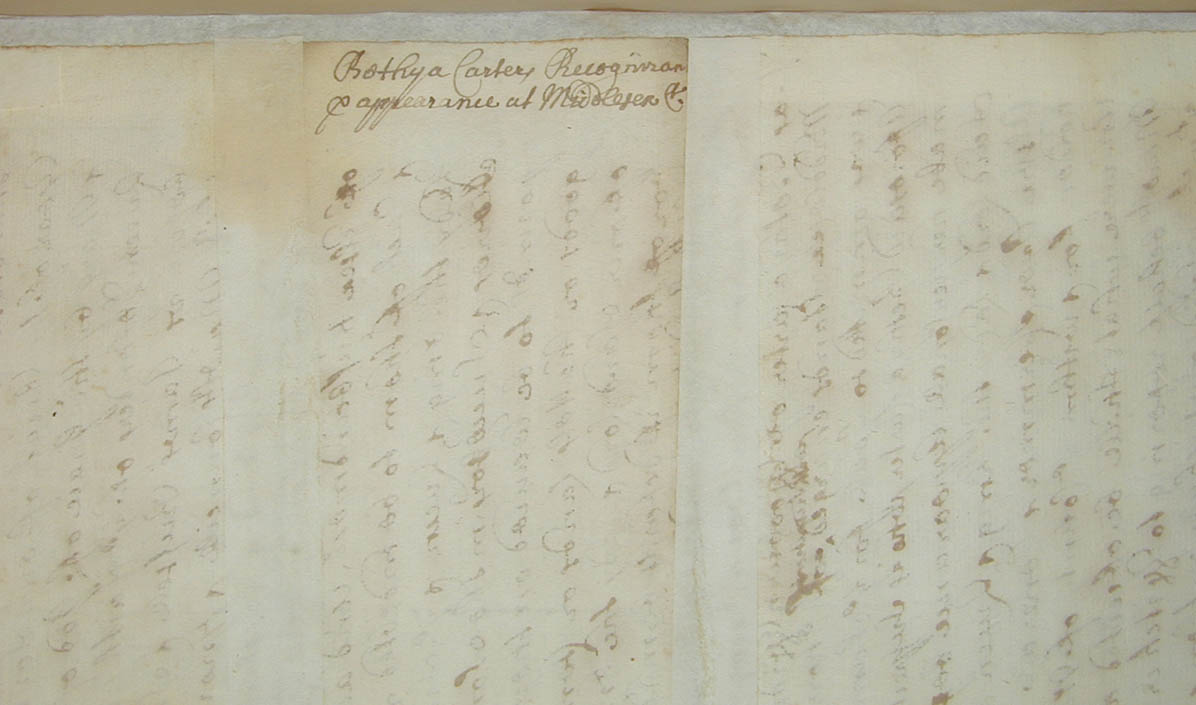 [December 8, 1692]
Memorandum.
That on the 8'th. Day of Decemb'r 1692 in the fowert Year of the Reign of our Soveraign Lord & Lady William & Mary by the Grace of God of England &c King & Queen Defenders of the faith personally Appeared before us James Russell & Sam'll Heman Esq'r of their Majests Councill & province of the Massachusets Bay in New England & Justices of Peace within the Same John Pierson & George Lylly of Lin in the County of Essex husbandman, And acknowledged themselves & Each of them to be indebted unto our Said Lord & Lady the King & Queen & the Survivor of them their Heires & Successors in the Some of (two hundred pounds to be leavied on their or Either of their goods or Chattels Lands or Tennements for the use of our Said Lord & Lady the King & Queen or Survivor of them if Default be made in the p'formance of the Condition underwritten --
The Condition of the Above Recognizance is Such that where as Bethya Carter of Wooburn Widdow in the County of Middlesex Stands Charged with Suspition of the horrible Sin of witchcraft & was Committed to Goale for the same; If therefore the Aforesaid Bethya Carter who is Suspected as Abovs'd, Shall make her personall Appearance before the Justices of our Said Lord & Lady the King & Queen at the Next Court of Assize Oyer & Terminer & Generall Goall delivery to be holden for & within the County of Middlesex. Afores'd to Answere what Shall be objected against her in their Majests behalf refering to Witchcraft & to do & receive that w'ch by Said Court shall be then & there injoned her & not depart without licence then the Above Recognizance to be void or elce to remain in full force & virtue Capt & Recognit Die prediet Cor. --
*Ja: Russell JP:
*Samuell Hayman
(Reverse) Bethya Carter , Recognizance & appearance at Middlesex Ct.
( Suffolk Court Files, Vol. 32, docket No. 2697, p. 22. Massachusetts Supreme Judicial Court, Judicial Archives, Massachusetts State Archives. Boston, MA. )