SWP No. 140: Mary Witheridge
( See also: George Jacobs, Jr. -- Complaint; Rebecca Jacobs -- Warrant .)
SWP No. 140.1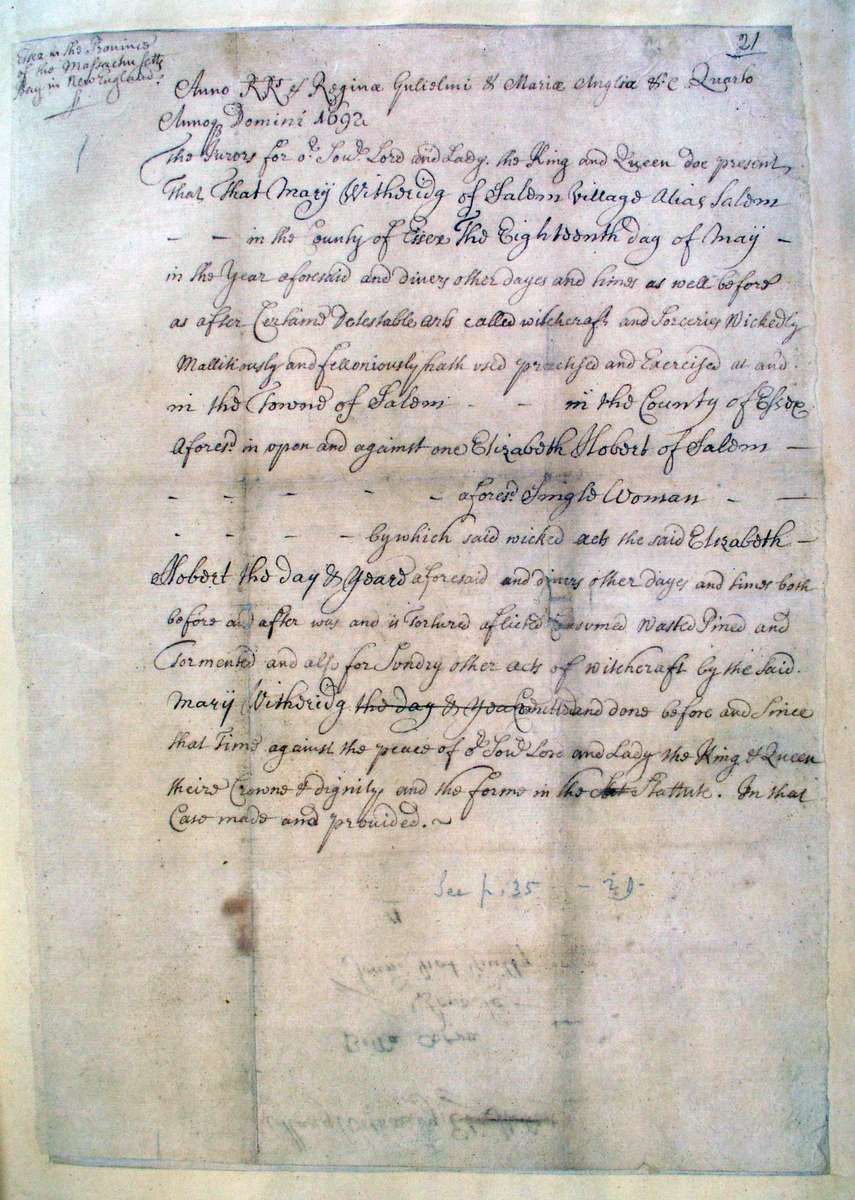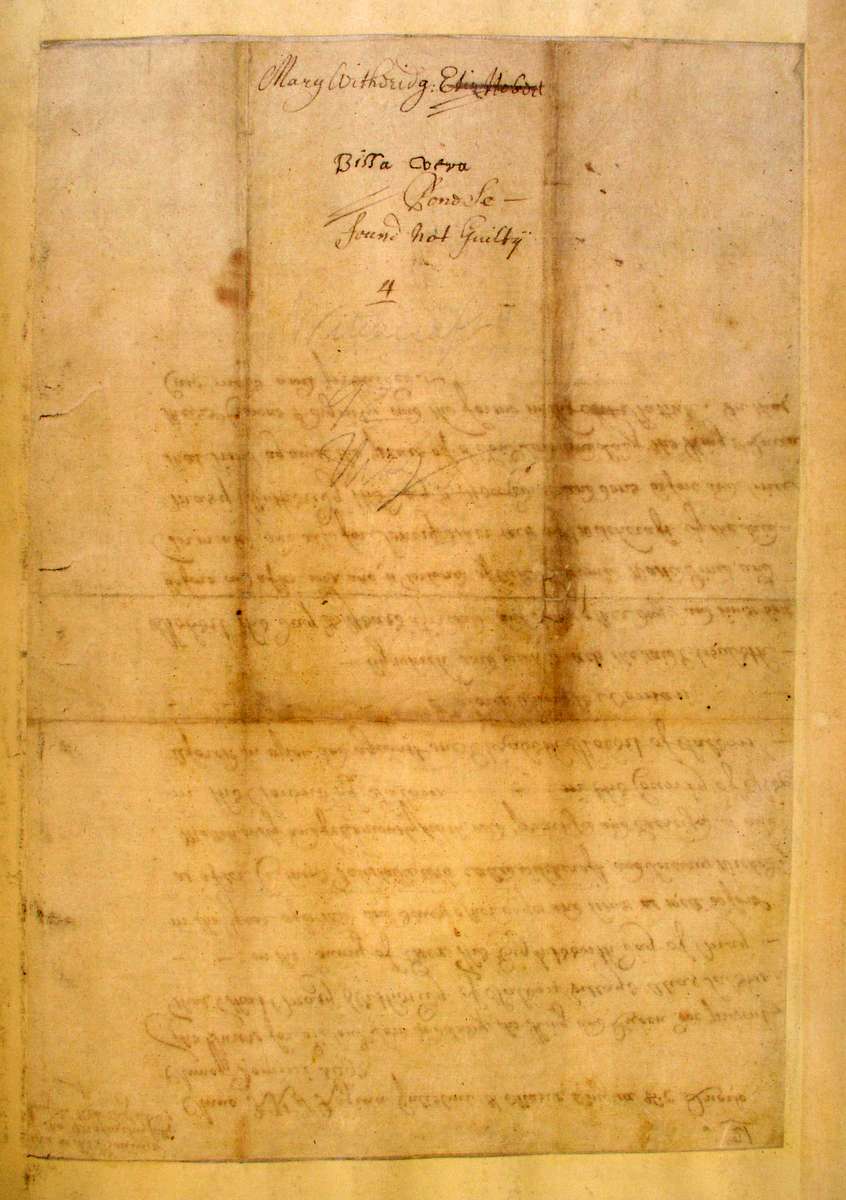 [+ September 15, 1692]
Essex in the Province of the Massachusetts Bay in New England: ss ]
Anno RR's & Reginae Gulielmi & Mariae Angliae &c Quarto Annoq'e Domini 1692
The Jurors for o'r Sov'r Lord and Lady. the King and Queen doe present That #[That] Mary Witheridg of Salem Village Alias Salem in the County of Essex The Eighteenth day of Maÿ in the Year aforesaid and divers other dayes and times as well before as after Certain detestable Arts called witchcraft and Sorceries Wickedly Mallitiously and felloniously hath used practised and Exercised at and in the Towne of Salem in the County of Essex Afores'd in upon and against one Elizabeth Hobert of Salem afores'd Single Woman by which said wicked Acts the said Elizabeth Hobert the day & Yeare aforesaid and divers other dayes and times both before and after was and is Tortured aflicted Consumed Wasted Pined and Tormented and also for Sundry other Acts of Witchcraft by the said Mary Witheridg #[the day & Yea] Comitted and done before and Since that Time against the peace of o'r Sov'r Lord and Lady the King & Queen theire Crowne & dignity and the forme in the #(Stat) Stattute. In that Case made and provided. --
(Reverse) Mary Witheridg: #(Eliz Hobert) Billa Vera, Ponet Se
Found not Guility
( Mass. Archives Vol. 135 No. 21, Massachusetts State Archives, Boston, MA. )
SWP No. 140.2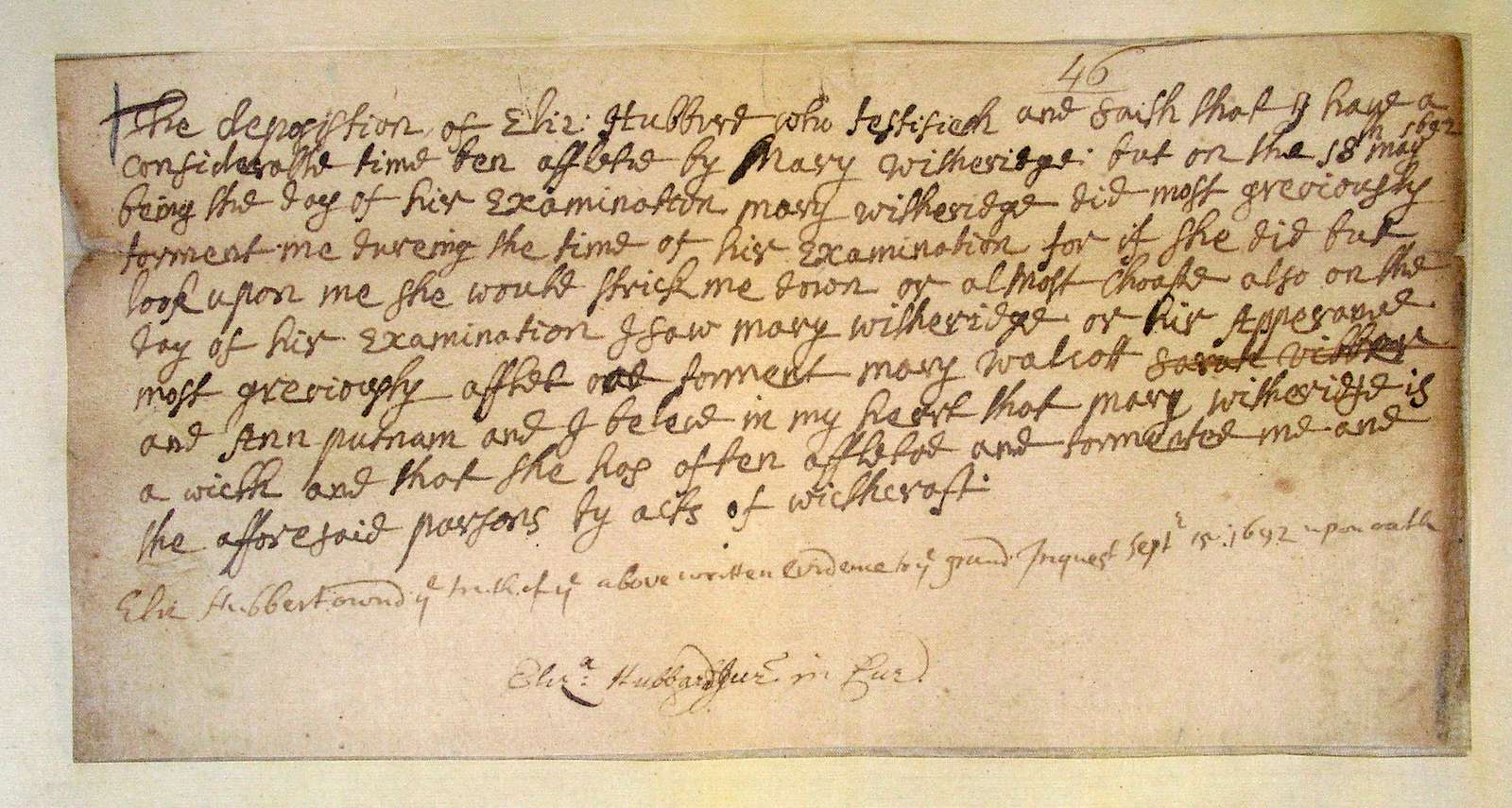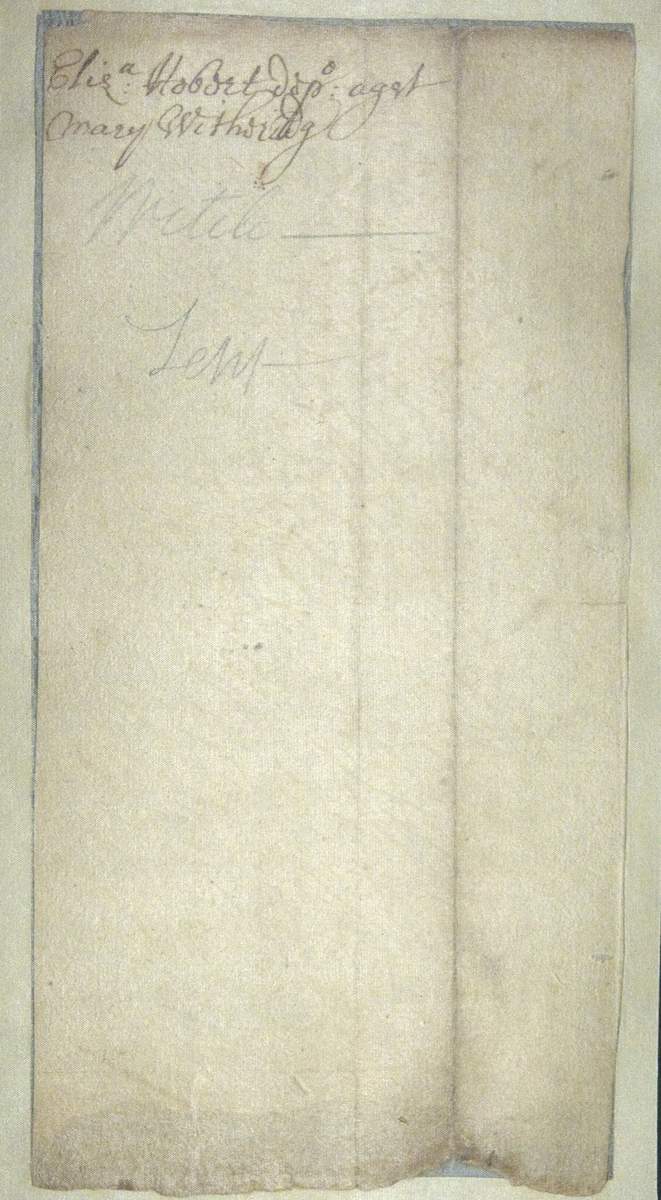 [September 15, 1692]
The deposistion of Eliz: Hubburd who testifieth and saith that I have a considerable time ben affletid by Mary Witheridge: but on the 18'th may 1692 being the day of hir Examination mary witheridge did most greviously torment me dureing the time of hir Examination for if she did but look upon me she would strick me down or almost choake also on the day of hir Examination I saw mary witheridge or hir Apperance most greviously afflet and torment mary walcott #[Sarah Vibber] and Ann putnam and I beleve in my heart that mary witheridge is a wicth and that she has often affleted and tormented me and the afforesaid parsons by acts of wicthcraft.
Eliz. Hubbert: ownd: the truth of the above written evidence by the grand Inquest
Sept'r 15: 1692 upon oath
Eliza' Hubbard Jurat in Cur.
(Reverse) Eliza Hobert depo agst Mary Witheridge
( Mass. Archives Vol. 135 No. 46, Massachusetts State Archives, Boston, MA. )