SWP No. 136: Sarah Wilds Executed July 19, 1692
(See also William Hobbs -- Mittimus; George Jacobs Sr. -- Mittimus; Sarah Good -- Death Warrant )
SWP No. 136.1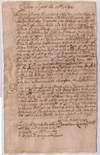 [April 21, 1692]
Salem Aprill the 21'th 1692
There Being Complaint this day made (before us) by Thomas Putnam and John Buxton of Salem Village Yeomen, in behalfe of their Majest's ,for them selfes and also for severall of theire Neighbours, Against W'm Hobbs husbandman and Delive' his wife, Nehemiah Abot Jun'r weaver. Mary Easty the wife of Isaac Easty and Sarah Wilds the wife of John Wilds all of the Towne of Topsfield or Ipswitch: And Edward Bushop husbandman & Sarah his wife of Salem Village, and Mary Black a Negro of Leut't Nathaniel Putnams of Salem Village also And Mary English the wife of Phillep English Merchant in Salem for high Suspition of Sundry acts of Witchcraft donne or Committed by them Lately upon the Bodys of Anna Putnam & Marcy Lewis belonging to the famyly of the aboves'd Thomas Putnam Complain't and Mary Walcot the daufter of Capt Jonat' Walcot of s'd Salem Village and others, whereby great hurt and dammage hath benne donne to the bodys of said persons above named therefore Craved Justice.
You are therefore in theire Majest's names hereby required to Apprehend and bring before us William Hobs husbandman and [] his wife Nehemiah Abot Jun'r weaver Mary Easty the wife of Isaac Easty and all the rest above named to Morrow aboute ten of the Clock in the forenoon at the house of Leiut Nath'll Ingersalls in Salem Village. in order to theire Examination Relateing to the premises abovesayd and hereof you are not to faile
Dated Salem Aprill 21'th 1692
John Hathorn &
Jonathan Corwin.
To: Geo: Herrick Marshall of Essex and any or all the Constables in Salem -- or Topsfeild or any other Towne
(Reverse) [words illegible]
( Essex County Court Archives, Salem -- Witchcraft Vol. 1, no. 163 )