SWP No. 090: Jane Lilly
[September 5, 1692 ]
SWP No. 90.1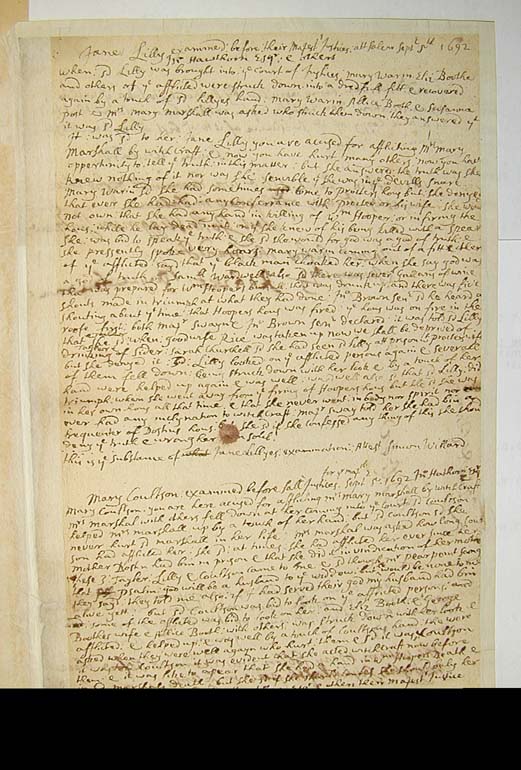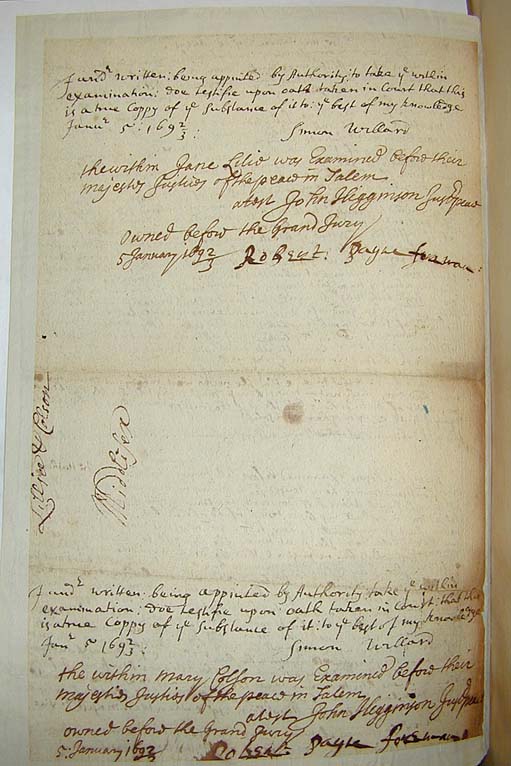 (Examination of Jane Lilly and Mary Colson)
[September 5, 1692 ]
Jane Lilly examined before their Majests Justices: att salem sept'r. 5th 1692 Jno. Hawthorn Esq'r: & others
When s'd Lilly was brought into: the Court of Justices: Mary Warin Eliz Boothe and others of the afflicted were struck Down into a Dredful fitt: & recovered again by a touch of s'd Lillyes hand: Mary Warin Allice Booth. & susanna Post & Mrs. Mary Marshall was asked who struck them down. They answered that it was s'd Lilly
It: was s'd to her: Jane Lilly you are acused for afflicting Mrs. Mary Marshall by witchcraft: & now you have hurt many others: now you have an opportunity to: tell the truth: in this matter: but she answered: the truth was she knew nothing of it nor was she Sencible if she was in the Devills snare Mary Warin s'd she had sometimes Come to Procters hous but: she Denyed that ever she had: had: any Conference with Procter or his wife: she would not own: that she had any hand in killing of W'm Hooper : or in firing the hous: while he lay dead in it: or if she knew of his being killed with a Spear she: was bid to speak the truth: & she s'd she would for god was a god of truth: & she presently Spoke very hoars: Mary Warin coming out of a fitt & other of the afflicted sayd that the black man Choaked her: when she say god was a god of truth: Sam'll Wardwell: also s'd there was sever'l Gallans of wine that day prepared for W'm Hoopers buriall: that was Drunk up: and there was five shouts made in triumph at what they had done: Jno Brown sen'r s'd he heard a shouting about that time: that Hoopers hous was fired: the hous was on fire in the roofe first: both Maj'r Swayne Jno. Brown sen'r Declared: it was told s'd Lilly that she s'd: when goodwife Rice was taken up now we shall be Deprived of Drinking of sider:sarah Churchill s'd she had seen s'd Lilly att prison w'th Procters wife but she Denyed it: Lilly looked on the afflicted persons again &: severall of them fell down: being struck down with her look & by touch of her hand were helped up again & was well: Wardwell also s'd that s'd Lilly : did triumph: when she went away from the firing of Hoopers hous but she s'd she was in her own hous all that time & that she never went: in body nor spirit nor had ever had any [inclynason] to witchcraft: Maj'r Sway told her she had bin a frequenter of DuStins hous: but she s'd if she confessed any thing of this she should Deny the truth & wrong her own soul:
this is the Substance of Jane Lillyes : examination: Attest *Simon Willard.
Mary Coulston examined before said Justices for the Maj'ties Sept. 5. 1692 Jno. Hathorn Esq're Mary Coultson: you are here acused for afflicting Mrs Mary Marshall by witchcraft Mrs Marshall with others fell Down at her Coming into the Court. s'd Coultson helped Mrs Marshall up by a touch of her hand: but s'd Coultson s'd she never hurt s'd Marshall in her life: Mrs Marshall was asked how long Coultson had afflicted her: she s'd: at times: she had afflicted her ever since her Mother Dastin had been in Prison and that she did it in vindication of her mother: These 3: Tayler: Lilly & Coultson came to me & s'd [through] Mr. Pearpoint song that Psalm: god will be a husband to the widdow: but he would be none to me they sayd: they told me also if I had served their god my husband had bin alive yet: but s'd Coulston was bid to look on the afflicted persons: and s'd some of the afflicted was bid to look on her: and Eliz Booth: & George Booths wife & Allice Booth with others: was struck Down with her look & afflicted & helpted up & was well by a touch of Coultsons hand: they were asked when they were well agayn who hurt: them & s'd it was Coultson it was told Coultson it was evident that she acted witchcraft now before them: & it was like to apear that she had a hand in W'm Hoopers Death & in Ed Marshals Death: And she s'd if she should Confes she should be by her selfe: examined before Jno. Hawthorn Esq're: & others their Majests: Justice.
this is the substance of what Mary Coultson s'd at her examination, Attest *Simon Willard
(Reverse) I und'r written: being appointed by Authority: to take the within examination: Doe testifie upon oath taken in Court that this is a true Coppy of the Substance of it to: the best of my knowledge Janu'ry 5: 1692/3
*Simon Willard
the within Jane Lilie was exami[m]ed before their majesties Justices of the peace in Salem
atest *John Higginson Just'e peace
Owned before the Grand Jury
5 January 1692/3
*Robert Payne:
Foreman:
I und'r written: being appinted by Authority to take the within examination doe testifie upon oath taken in Court: that this is a true Coppy of the Substance of it: to the best of my knowledge.
Jan'y 5 1692/3: *Simon Willard.
the within Mary Colson was Examined before their [M] ajesties Justi[c]es of the peace in salem
atest *John Higginson Just'e peace
owned before the Grand Jury
5 January 1692/3
*Robert Payne
Foreman
( Suffolk Court Files, Vol 32 Docket No. 2714, p. 52 )
SWP No. 90.2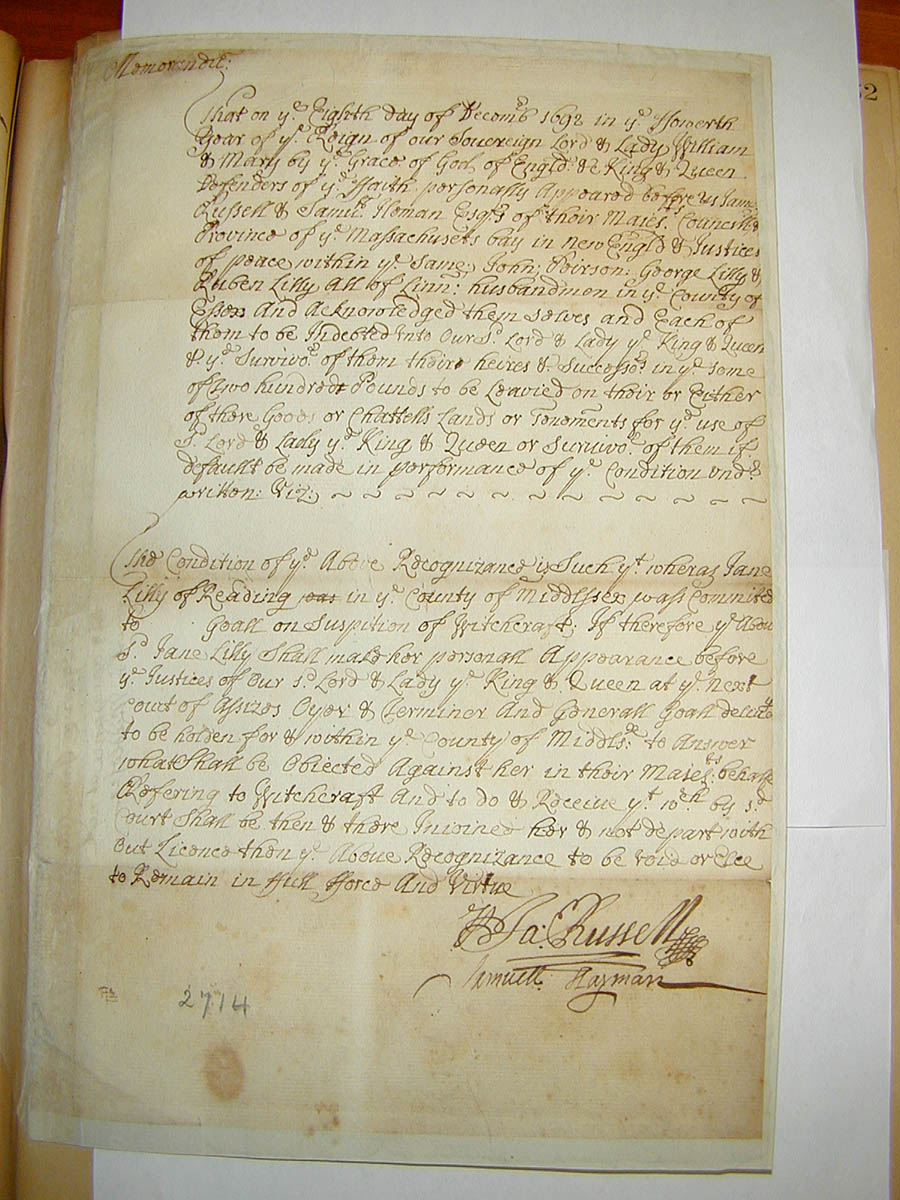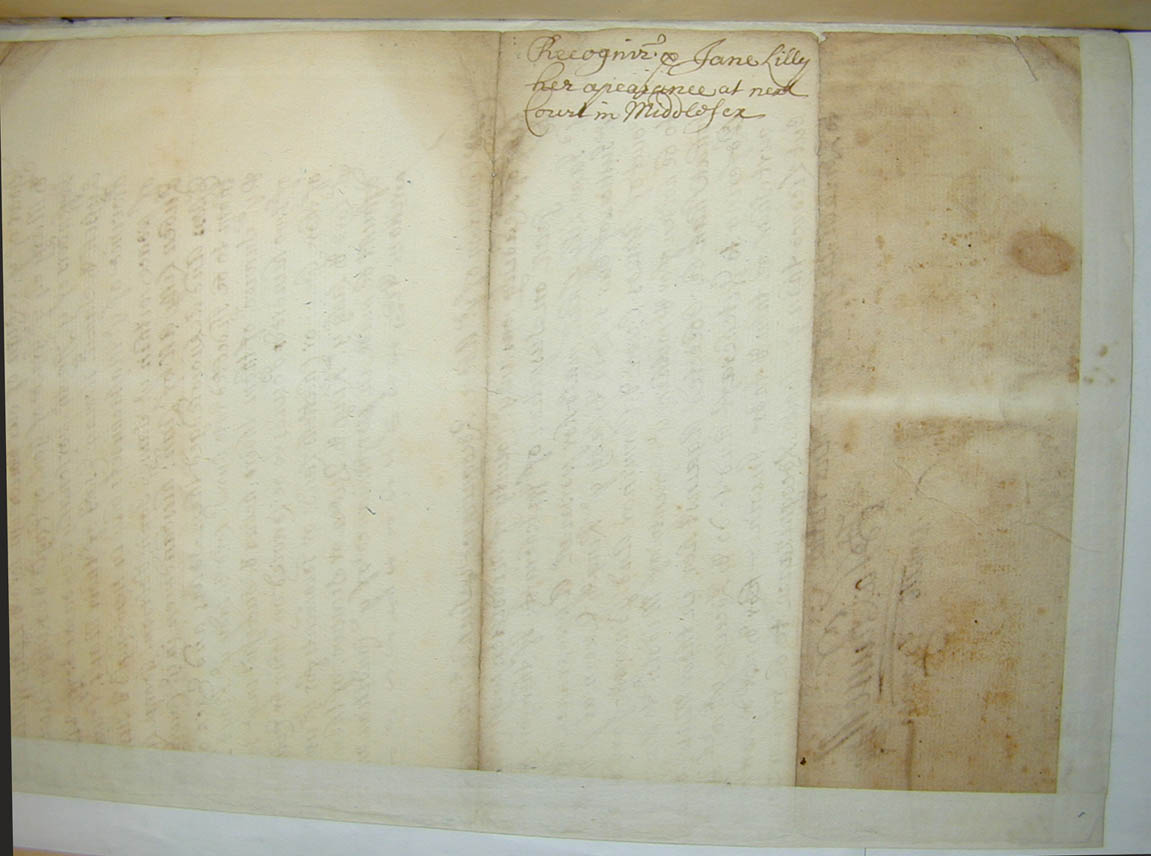 [December 8, 1692]
Memorandum:
That on the Eighth Day of December 1692 in the fourth Year of the Reign of our Sovereign Lord & Lady William & Mary by the Grace of God of England: &c King & Queen Defenders of the faith personally Appeared before us James Russell & Samu'll Heman Esq'rs. of their Majestes Councill: & Province of the Massachusets bay in New Engld & Justices of peace within the same; John; Pierson; George Lilly & Ruben Lilly all of Linn: husbandmen in the County of Essex And Acknowledged themselves and Each of them to be Indebted Unto our S'd Lord & Lady the King & Queen & the Survivor of them their heires & Successors in the some of Two hundred Pounds to be Leavied on their or Either of there Goods or Chattells Lands or Tenements for the use of O'r sd Lord & Lady the King & Queen or Survivor of them if Default be made in performance of the Condition und'r written Viz --
The Condition of the Above Recognizance is Such that whereas Jane Lilly of Reading in the County of Middlesex wass commited to Goall on Suspition of Witchcraft; If therefore the above S'd Jane Lilly Shall make her personall Appearance before the Justices of Our S'd Lord & Lady the King & Queen at the next Court of Assizes Oyer & Terminer And Generall Goall Delivery to be holden for & within the County of Middls'x: to Answer what Shall be Objected Against her in their Majests: behalf Refering to Witchcraft And to do & Receive that w'ch by S'd. Court Shall be then and there Injoned her not to Depart with out Licence then the Above Recognizance to be void or elce to Remain in full force And Virtue
*Ja: Russell JP
P'r *Samuell Hayman
( Suffolk Court Files, vol. 32, docket 2714, p. 52, Massachusetts Supreme Judicial Court, Judicial Archives, Massachusetts State Archives. Boston, MA.)
SWP No. 90.3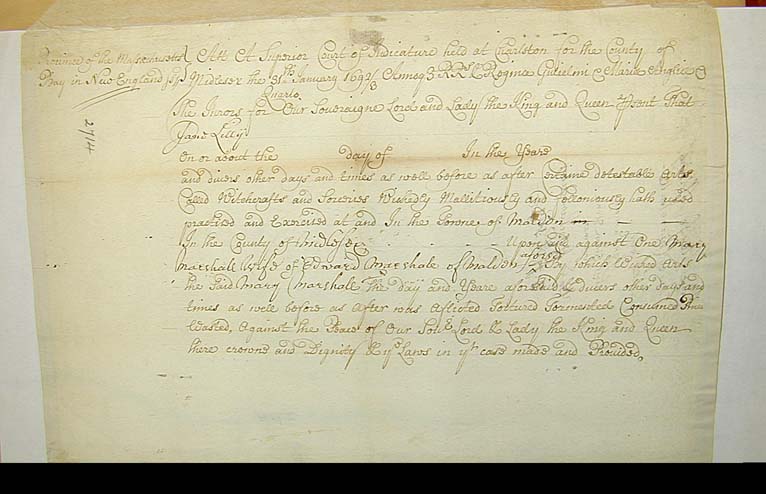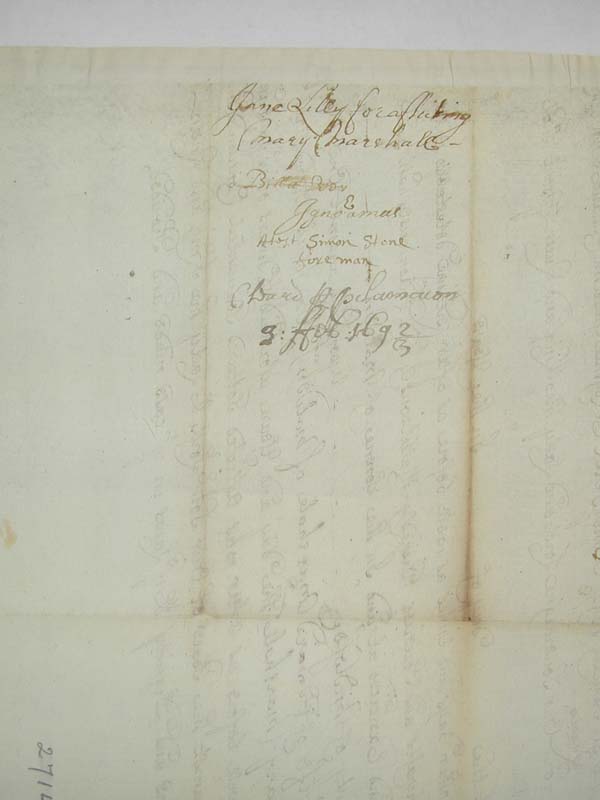 (Indictment of Jane Lilly, for Afflicting Mary Marshall, Cleared by Proclamation)
[February 3, 1693 ]
(Case of Jane Lilly -- Witchcraft -- Feb. 1692-3)
Province of the Massachusetts Bay in New England ss// ] Att A Superior Court of Judicature held at Charlston for the County of Midlesex the 31th January 1692/3 Anno'qe R.R. & Reginae Gulielmi & Mariae Angliae &c Quarto.
The Jurors for Our Soveraigne Lord and Lady the King and Queen p'sent that Jane Lilly --
On or about the [] Day of [] In the Yeare [] and divers other days and times as well before as after Certaine Detestable Arts, Called Witchcrafts and Sorceries Wickedly Mallitiously and felloniously hath used practised and Exercised at and In the Towne of Malden In the County of Midlesex -- Upon and against one Mary Marshall Wife of Edward Marshall of Malden afors'd By which Wicked Arts The Said Mary Marshall The Day and Yeare aforesaid & Divers other Days and times as well before as after was Aflicted Tortured Tormented Consumed Pinedasted, Against the Peace of Our Sov'r Lord & Lady the King and Queen their crowne and Dignity & the Laws in that case made and Provided,
(Reverse) Jane Lilly for afflicting
Mary Marshall
billa vera
Ignoramus
Atest *Simon Stone
foreman
Cleared by poclamation
3 Feb. 1692/3
( Suffolk Court Files, Vol. 32, docket No. 2714 p. 52. Massachusetts Supreme Judicial Court, Judicial Archives, Massachusetts State Archives. Boston. )